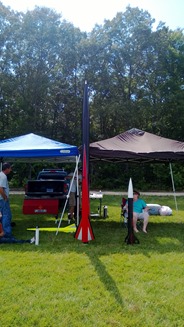 The NMMF crew is always on the prowl looking for great exhibitors. Last weekend, June 22nd, I attended Southern Thunder in Manchester, TN. Talk about an atmosphere full of explosive maker enthusiasm!
There were dozens of maker-built rockets on display both on the ground and in the air and some that went in the air and quickly came back to the ground. They had several different sizes of launch stands and it was a very diverse group of rocket builders. I spoke to a college kid who built a ~12 ft tall rocket that launched from one of the large launch pads. There were retired aerospace engineers. They had small beginner launch pads from which my own 5 & 6 year olds launched their first rockets. This was an event ripe with Maker Faire fruit.
The event coordinators were gracious enough to let me make an announcement to the crowd of about 100 advertising the Nashville Mini Maker Faire and I followed that up by walking the crowd and giving out a hand full of NMMF business cards. I talked to a few folks that were very excited about the Faire and I hope to see them again as exhibitors.
However, I was mostly surprised that most of the folks I talked to had never heard of the Maker Movement or of a Maker Faire. I expected that with this crowd these would not be new terms. This just goes to show that we still have a lot of work to do in regards to educating the world about the movement. It also goes to show the potential for growth for the movement. If this esteemed group of makers didn't know they were makers then there are certainly many more like them out there to be discovered.
If you know of an event like Southern Thunder that features makers out in the wild doing their thing, please let us know! We'd like to go meet them and drag them to the Faire.